Dippatyön vaiheet
Tältä sivulta löydät vinkkejä, materiaaleja ja hyviä käytäntöjä diplomityöprosessin eri vaiheisiin. Diplomityön aloittaminen voi tuntua aluksi haastavalta. Jos prosessin paloittelee riittävän pieniksi paloiksi, ei tehtävä enää tunnu niin suurelta harppaukselta.
Materiaalit: https://drive.google.com/drive/folders/1I361_SN7xqvsDJNtYt55D_Tbh1VgPWt9?usp=sharing
Esimerkkejä infolaisten tekemistä dippatöistä:
Diplomityön prosessi on jaettu 5 osaan. Nämä viisi vaihetta ovat "herääminen", "Pitäisi aloittaa", "Nyt lähtee", "Work, work, work" ja "Loppusuora". Jokaisen vaiheen ohessa on tarkistuslista, jonka kaikki asiat tulisi olla tehtynä ennen kuin siirtyy seuraavaan vaiheeseen  Kaikkiin tarkistuslistoihin ja tämän sivun materiaaleihin kannattaa kuitenkin tutustua etukäteen, jotta ne eivät tule yllätyksenä. Tarkemmat selitykset tarkistuslistoille ja kalvojen sisällöille löydät videoilta.
Ensimmäisessä vaiheen voi aloittaa heti, kun aloittaa maisteriopintojen suorittamisen. Ensimmäinen vaihe tulisi kuitenkin aloittaa viimeistään vuosi ennen diplomityön kirjoittamisen aloittamista.
Antoisia hetkiä diplomityön parissa!
Mikäli haluat antaa palautetta kokonaisuudesta tai jotain on sivulla rikki, ota yhteyttä @nesefi telegramissa.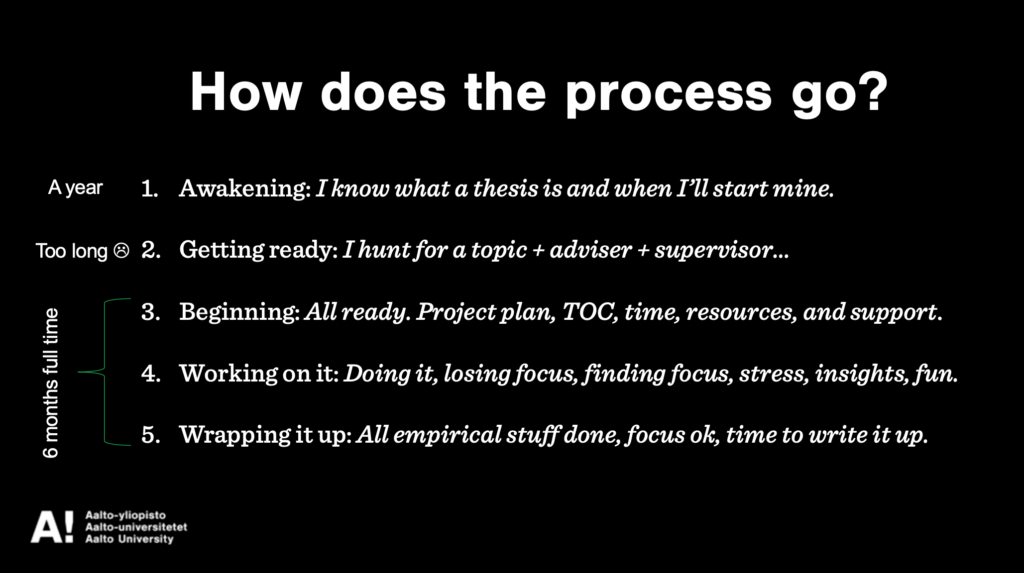 #1: Herääminen
#1: Herääminen
Vaihe #1: Tarkistuslista
I know the difference between a supervisor & an advisor
I have checked the required bureaucracy for a master's thesis.
I know that I can do the thesis at a work place, or get a grant, or do it without any pay.
I have an idea what a master's thesis is and what it looks like.
I have skimmed over at least 5 master's theses.
I have ideas of what themes or broad subjects I would like to study in the thesis.
I have a plan when to start thinking seriously about my master's thesis.
I know the importance of methodology & methods.
#2: Pitäisi aloittaa...
#2: Pitäisi aloittaa...
Vaihe #2: Tarkistuslista
I have a supervisor & we have a plan & schedule
I have 0-2 advisors & they know my plan & schedule
I have theme / rough topic to study & a clunky research question
I have an ugly and horrible title of the work
I know what "methodology" means in a thesis
I know the typical structure of a thesis
I have skimmed over 3-5 theses relevant to my topic or methodology.
I have decided whether I want a salary from my thesis work
I know the official submission deadlines for theses
I know the official requirements for graduation
I know the common pitfalls of thesis work
Tärkeä miettiä itse:
Tiedän mitä haluan dipalta ja millä effortilla ja millä palkalla.
Valvoja lukittu (valvoo mikä on hyvä dippa).
Ohjaaja(t) lukittu (substanssiosaaminen).
Aihe tai teema tai tutkimuskohde tai datasetti suurin piirtein selvä.
Mistä kirjallisuus (tuo esiin keskusteluissa jo nyt).
#3: Nyt lähtee!
#3: Nyt lähtee!
Vaihe #3 tarkistuslista
I have a good table of contents, 1st level and 2nd level headings.
I have good enough research question (not perfect, though).
I have an idea of the literature and key terms, and how to structure them.
I 'm ready for my empirical part: what to look for and what kind of answers I'll get.
I can explain my thesis in a nutshell over a cup of coffee.
I can point the difficulties & risks in my own thesis work.
I have revised my schedule & plans at least once.
I have found 2-3 theses that are similar to mine (thematically or methodologically).
I have a good guess of what my results will be and what it implies
I'm ready to submit my thesis topic
I have a routine in getting supervision & advising (meetings booked).
#4: Work, work, work
#4: Work, work, work
Vaihe #4 tarkistuslista
My table of contents is 90% ready.
My research question is solid, some tweaking needed though.
My supervisor is happy with my literature / background.
I'm mostly done with my empirical part. Maybe some analysis to be done.
I can explain my thesis in my sleep. In 2 minutes.
I'm not going to underestimate the time required to finalise things, especially working with the results & conclusions & discussions.
My submission deadline most probably won't change. I check my plans.
I know what my results are but I have way too much of them.
I have booked final review times with my supervisor and advisors,
and I have enough time to make changes after them.
I've seriously considered taking 4-7 days off before the final stretch.
#5: Loppusuora
#5: Loppusuora
Vaihe #5 tarkistuslista
I've submitted my thesis.
I've notified my supervisor and sent them the submitted version.
I've given the thesis talk (at work or elsewhere).
I have a long time ago confirmed my thesis topic.